Cavi-Lipo provided by Dr. Steve Anderson of Active Chiropractic is giving Kansas City patients a non-invasive solution for Body Sculpting & Fat Reduction,
 Skin Firming all in one treatment. With the latest and most innovative technology, Cavi-Lipo can provide instantaneous results in one thirty to 40 minute session without any pain or post-treatment downtime.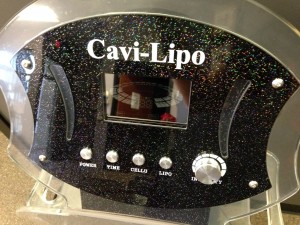 How Does Cavi-Lipo Work?
Cavi-Lipo is performed by a knowledgeable and thoroughly trained specialist at Active Chiropractic using Ultrasound Cavitation with gentle therapeutic body shaping techniques to breakdown unwanted fat cells. One Cavi-Lipo session utilizes thirty minutes per area to release fat and is then metabolized through the liver and the body's natural toxin cleansing process. Impressive changes in fat reduction and body contouring can be seen in the first Cavi-Lipo session, but for the best possible results, a series of Cavi-Lipo sessions are recommended.
Cavi-Lipo Benefits
Not only does Cavi-Lipo produce impressive results in the first session, but also has many other instant health and wellness benefits including:  
Fat and Cellulite Reduction.
Lose Inches.
Body Sculpting and Contouring.
Firming and Toning.
Smoothing of Wrinkles, Stretch Marks and Unwanted Fine Lines.
Lymphatic Drainage.
Increased Circulation.
Detoxification.
Increased Self-Esteem and Confidence.
Gentle relaxed warming massage-like treatment.
Quick and easy sessions.
Friendly and Quality Trained Professionals Performing Cavi-Lipo.
No surgery, no needles, no pain, no post-treatment recovery.
Cavi-Lipo Candidates
Cavi-Lipo is great for Kansas City women and men who want to reduce fatty deposits in common problem areas such as: neck, arms, thighs, belly, hips, buttocks, etc. Any healthy adult with any level of physical fitness can be a candidate for this advanced and efficient system for fat reduction. Cavi-Lipo may contribute greater and better long-term results to those that follow a healthy lifestyle with the daily recommended amount of physical exercise, water, and a healthy diet during Cavi-Lipo treatment periods.
Is Cavi-Lipo Safe?
Cavi-Lipo, provided at Active Chiropractic, has been approved by the FDA (Federal Drug Administration) for use in the US. Cavi-Lipo technology is one of the most efficient and advanced non-invasive treatment that has produced significant results for the reduction of cellulite and adipose (fat) tissue.
Not only does the FDA approve Cavi-Lipo, but Dr. Anderson of Active Chiropractic has seen first hand how Cavi-Lipo has helped hundreds of people achieve the body they've always wanted and worked hard for, including himself. See the below images for astonishing before and after results from two of our Cavi-Lipo patients!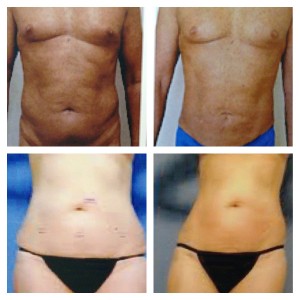 Cavi-Lipo is a revolutionary non-invasive alternative to achieve fat and cellulite reduction the quick and easy way without undergoing liposuction surgery. Rest assured, Cavi-Lipo is the simple solution to once and for all get rid of those unwanted and annoying problem areas!  With one session of Cavi-Lipo, you can visibly see fat reduction and be on your way to better confidence and the quality of life you deserve! If you or someone you know would benefit from Cavi-Lipo or you want more information, call our friendly office today at 816-436-8200 to set up a Consultation with Dr. Steve Anderson, Active Chiropractic.