Lose Inches, Lose Weight, Start Feeling Great!


Want to lose 10 lbs or shape-up before swimsuit season? Sign up for The 24 Day Challenge and compete to win a cash prize from Active Chiropractic in Kansas City! The prize starts at $200 and for every 10 people that join the prize goes up by $100. The last contest we held had a grand prize of $800!

Details
The Kansas City Active Chiropractic 24 Day Challenge Contest begins on May 14th, 2013 at 12:01 am. Order your 24 Day Challenge bundle from your Active Chiropractic Advocare representative or contact us prior to May 13th, 2013. On May 13th at 6:00 pm we will be holding a weigh-in at Active Chiropractic to kick-off the 24 Day Challenge. If you're out of state or cannot make the meet, no worries, we can have your 24 Day Challenge pack shipped right to your door! However, you will need to video call in with one of our reps to ensure 100% accuracy and honesty with Active Chiropractic's 24 Day Challenge contest!
What is the 24 Day Challenge?
The 24 Day Challenge is a nutrition guided program that gives your body the healthy start it needs to achieve your wellness and weight-loss goals. You can also customize your program to get the specific results you want. There are options to focus on weight management, energy, overall body composition, or overall wellness and health. Best results are achieved through following the recommended guidelines that include exercising and clean eating. Pricing depends on which option and what your goal is for your personalized 24 Day Challenge.
What to Expect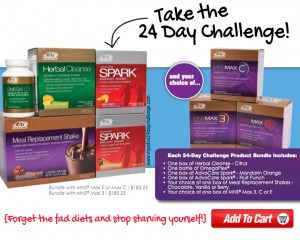 The 24 Day Challenge conveniently provides a cleanse, separated supplements by meal, meal replacement shakes, nutrition recommendations, meal options, and guidelines, all bundled together to make it easy for those on the go. If you already perform physical activity regularly, the 24 Day Challenge will significantly improve your strength and endurance to build your fitness level and achieve more dramatic results. If you do not regularly exercise, the 24 Day Challenge will assist you with a jump-start beginning to your new lifestyle as a healthier you!
How It Works
The 24 Day Challenge is broken up into two phases, the Cleanse Phase and the Max Phase. The first 10 days focus on ridding the body of toxins and contaminants during the Cleanse Phase. The Max Phase, days 11-24 are focused on building strength and fueling the body to produce maximum results. The average person that completes the 24 Day Challenge with a 90% accuracy loses 10 lbs and/or 10-12 inches.

After The 24 Day Challenge
The entire program is designed to help you reach your ideal weight and strength. The Cleanse is recommended every 90 days, but the Max Phase is recommended to be continued following The 24 Day Challenge. There are also many other options of nutrition enhancements at Active Chiropractic to support your healthy lifestyle. The 24 Day Challenge, like anything else focusing on the body, is never "one and done". To maintain and improve your performance, health, and fitness level, it is highly recommended to continue utilizing the customized program by Active Chiropractic and Advocare accompanying eating healthy and regular exercise.
Commit and Get Fit
Kansas City Chiropractor, Dr. Steve Anderson and friendly staff are dedicated to assisting you in your health and wellness goals. Thousands of people have experienced success on the 24 Day Challenge! Get started on your wellness and weight loss journey with Active Chiropractic! Even if you do not want to compete in our contest, but want more information on The 24 Day Challenge and other Advocare products, or to set up an appointment please call our office at 816-436-8200 or message us!